The tourist season begins
09 July 2021

The starting gun on the tourist season in Prague has been fired. The Czech Republic is now open to visitors from the EU and some non-European countries, including USA and Australia.

Vaccination has become the gateway to freedom: vaccinated travellers from EU countries no longer need a COVID-19 test to be able to visit Prague. As ever though, the rules are complicated, with different rules applying to different nationalities.

As for life in Prague, with coronavirus now under control (he says hesitantly), things are more or less back to normal. Most tourist services are operating, including sightseeing tours, river cruises and classical concerts. Charles Bridge is no longer empty. Prague is waiting for you, are you ready to make the trip?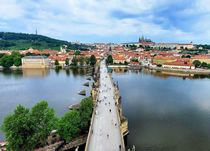 Prague reawakes (for the second time!)
10 May 2021

As the pace of vaccinations in the Czech Republic picks up and the epidemiological situation steadily improves, restrictions are being gradually lifted and some aspects of life are returning to normal.

Shops have reopened and cultural life in Prague is coming back. Museums, exhibitions and tourist sites are open once more, including Prague Castle, and several pilot projects for concerts with spectators are scheduled for the coming week.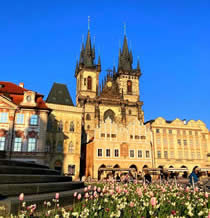 Spring is in the air
12 April 2021

Although the weather in Prague is highly changeable at the moment, with warm spells followed by snow showers, spring is definitely on its way; as is evident in the orchards on Petrin Hill, with the apple and cherry trees starting to blossom.

The general mood in the city is steadily improving. The daily number of coronavirus cases is falling and the vaccination programme is starting to bear fruit. There is a long way to go still, but the strictest restrictions on free movement of people have now been lifted, and Prague Zoo and the Botanical Gardens have reopened. People can also visit farmers markets again.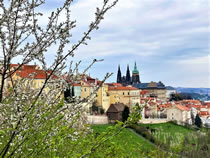 In the bleak midwinter...
26 January 2021

The Coronavirus news is still not good in Prague, with lockdown recently extended to 14th February (and perhaps beyond). Having said this, the daily COVID-19 case numbers dipped below 2500 yesterday for the first time in over a month, which gives us some hope for the future.

But we have a question, has the huge drop in carbon emissions as a result of global lockdowns sparked the onset of a traditional hard winter? Or is it just that it is January (historically the coldest month in the Czech Republic), so heavy snowfall is to be expected. Who knows. What we do know is that it is jolly cold strolling across Charles Bridge at the moment.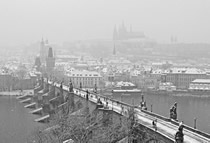 We look forward to a better year in 2021
02 January 2021

Prague saw in the year 2021 with the quietest celebrations ever: no crowds in the squares and streets, no official fireworks. Restaurants and tourist services were closed, and a nighttime curfew was (and still is) in place. People therefore celebrated at home.

In related news, during Christmas the first covid-19 vaccines arrived in the Czech Republic, and vaccination is now underway. Like elsewhere in the world, the Czech people are welcoming in the new year with hope.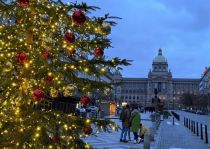 The festive atmosphere in Prague is alive, in a small way
07 December 2020

Prague is reopening for Christmas. Thanks to the improving epidemiological situation in the country, restaurants, hotels, shops and tourist attractions are open again, and Prague is welcoming tourists once more. Although visitors from most European countries will need a negative COVID-19 test to enter.

Whilst many cultural events have had to be cancelled, visitors can still enjoy a festive atmosphere (without the crowds). A Christmas tree at the Old Town Square is decorated in the Czech national colours. There is also a small Christmas market in the upper half of Wenceslas Square - Christmas Markets.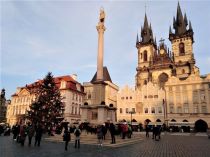 Czech Republic back in lockdown
22 October 2020

Due to the coronavirus pandemic, the Czech Republic is back in lockdown. All but essential shops and services are closed; restaurants, pubs and cafés are closed, and all entertainment has been suspended. Tourist attractions and hotels are also closed. Gatherings of more than 2 people are banned.
Restrictions apply until 3rd of November, although this date may be extended. Let's hope the situation improves soon.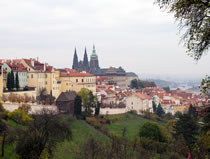 SIGNAL Light Festival - 15-18 October 2020
06 October 2020

The streets of Prague will be brightly lit by the Signal Festival next weekend (15-18 October 2020). Signal is an open-air celebration of light, with Prague's famous buildings bathed in an array of colours. The best in modern lighting technology is employed to illuminate the buildings using a mix of fixed lights and video projections. To enjoy the shows, simply stroll around the Old Town, Karlin and Holešovice districts after dark.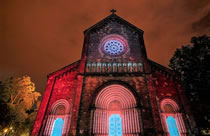 St. Wenceslas Markets return to Prague - 14-28 September 2020
11 September 2020

On Monday, traditional medieval markets return to Wenceslas Square and Republic Square. To celebrate the legacy of St. Wenceslas (the patron saint of the Czech lands), in the early-autumn air visitors can browse local handicrafts, enjoy live music, and sample a variety of good food and drink, including plenty of homemade specialties. Try the St. Wenceslas beer, for example, which is specially brewed for the occasion based on a traditional recipe.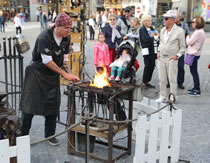 The Nutcracker in Prague - tickets on sale now!
18 August 2020

Tickets are now on sale for Tchaikovsky's endearing ballet The Nutcracker, which is staged in December and January at the National Theatre in Prague. It is the highlight of the year for many ballet ensembles, and far and away the most sought after show in the festive season. Prague Experience is an official ticket seller.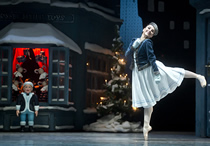 Cheap beers and plenty of ambience on offer at the best Prague pubs
12 August 2020

Czech people are mostly taking their holidays at home this summer, so despite the lack of foreign tourists in the city, the beer gardens in Prague are busy with local visitors.

There are some great deals to be enjoyed, in the best locations, with many pubs offering food and drinks for up to 30% off normal menu prices.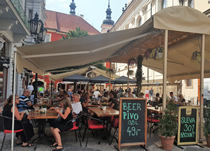 Sculpture returns to the Old Town Square
15 July 2020

A new monument, the Marian Column, has been erected in the Old Town Square. It is a replica of a Baroque column that once stood in the square.

The original column was built in 1650 by Emperor Ferdinand III as a symbol of thanks to the Virgin Mary for protecting Prague against invading Swedish troops at the end of the Thirty Years' War. It was torn down in 1918 following the foundation of the independent Czechoslovakian state; many local people saw it as an unwanted symbol of the Habsburg monarchy.

The replica column, which has proved controversial with non-religious groups, has been created by Czech sculptor Petr Váňa. It is 14 meters high and has a sculpture of the Virgin Mary on the top.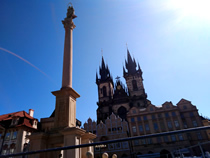 UK tourists can travel to Prague
01 July 2020

The Czech Republic has reopened its borders to UK nationals. Tourists from the UK and most EU countries can now visit Prague without restrictions (no coronavirus test and no quarantine). Direct flights to Prague from London and Manchester have resumed, as have flights from many EU capital cities, with more set to follow.

And as for when you get here, Prague is open and most tourist services are up and running. We can't wait to welcome you back!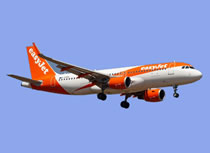 Lesser Town Square
22 June 2020

Hot on the heals of renovation works underway in Wenceslas Square, the Lesser Town Square will be the next public space to receive a make-over. Plans have been approved, and works are scheduled to start by the end of the year. The square, with its famous landmark, the beautiful baroque St Nicholas Church, is often clogged with traffic. So the aim is to create a pleasant, more peaceful space where people can gather, and also enjoy cultural events. There will be more greenery and a new fountain, to help cool visitors in the hot summer months.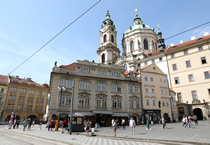 Wenceslas renovations reveal cobblestones from Jewish graves
08 June 2020

The ongoing renovation of Wenceslas Square has revealed hundreds of cobblestones originating from Jewish gravestones: remnants of text have been found on some stones, while others are made of polished marble. During the communist regime, Jewish gravestones were destroyed and recycled as paving in several areas in the centre of Prague. The cobblestones will now be returned to the Jewish community.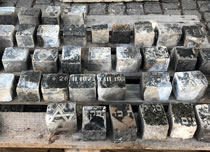 The borders will reopen for EU nationals on 15th June
03 June 2020

Most businesses and tourist facilities in Prague have already reopened, some international flights have resumed, and from 15th June the next piece of the jigsaw will be inserted: the borders will reopen to certain other EU nationals.

A two-tier approach has been adopted. People arriving from EU countries deemed as "safe", such as Greece, will be allowed to enter the Czech Republic without restrictions. Others, such as UK tourists, will still not be permitted to enter. For some Europeans at least, the City of a Hundred Spires beckons once more - coronavirus news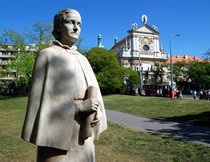 Normality (of sorts) returns to Prague and the Czech Republic
25 May 2020

Today is a momentous one in the story of 2020. The next stage in the 'Great Reopening' is underway: pubs and restaurants can open fully, with seating now permitted both inside and outside; hotels, swimming pools and zoos are welcoming visitors once more; river cruises are sailing again; and many events can resume.

But the next big question.... when will the borders fully reopen?...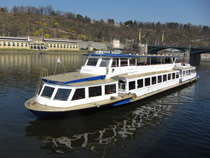 Old Town Hall Tower Reopens
18 May 2020

The Old Town Hall Tower is open once more after a 2 month closure. It is one of the most well known landmarks in Prague. Inside is a staircase and an elevator, which visitors can climb or ride to the top to take in beautiful views over the Old Town.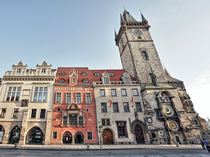 Beer Gardens and Summer Terraces Reopen
11 May 2020

Prague pubs and restaurants are back! From today, they are allowed to open their outdoor premises. After a long time, people can once more enjoy a draught beer or a bite to eat in a beer garden or on a restaurant's summer terrace.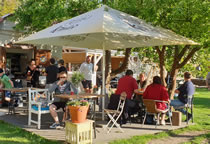 Wenceslas Square Renovation
01 May 2020

The city of Prague never sleeps! In Wenceslas Square, long-planned renovations are under way: by 2025 the famous square will have a new look, as shown on the photo below, with more space for pedestrians and more green space. There will be new paving, an extra line of lime trees will be planted, and tram tracks will be laid along the sides of the square. The centre of the square will be free for pedestrians and cyclists.
Wenceslas Square is 750 meters long and 60 meters wide, and was originally founded as the Prague horse market by King Charles IV in the fourteenth century.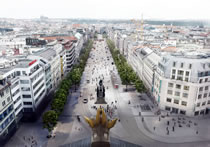 Czech Pubs
28 April 2020

Czech people are saving their pubs! These are sad times for pubs and restaurants, and many are struggling financially. Places that used to be full of life are now deserted. So Czech pub goers are supporting a project called 'Save your pub', which involves them buying vouchers for beer and food in their local, for use when the corona-crisis is over. In the last month alone vouchers to the value of 7 million Czech Crowns have been bought. The initiative was founded by the Czech Association of Breweries, and 2400 pubs have signed up so far, located all over the country.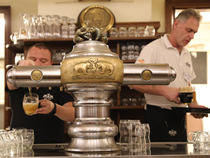 Czech Baking
25 April 2020

Forced to stay at home, Czech people have turned to the traditions of their grandmothers in order to feed the family, limit the need for shopping and to kill a bit of lockdown time. Everyone has started to bake! Bread, rolls, sweet buns, even burger buns - everything is home made these days, while flour and yeast are slowly becoming goods in short supply!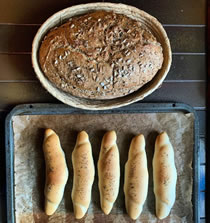 Sewing in Prague
18 April 2020

Sewing is the new national hobby in the Czech Republic. A shortage of face masks has led thousands of people to volunteer to sew face masks at home, to help combat the spread of coronavirus. Anyone who owns a sewing machine is helping out, sewing masks not just for their families and friends, but also joining forces with others to produce a huge number of masks for hospitals, the emergency services and retirement homes.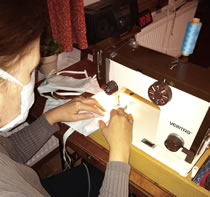 Charles Bridge
12 April 2020

This is an unusual sight: Charles Bridge, normally crowded with people, empty at midday! In the midst of the coronavirus lockdown, there is virtually no-one. It is so quiet - come back tourists, all is forgiven!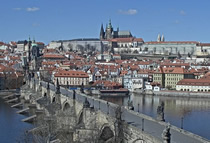 Easter in the Czech Republic
10 April 2020

Unfortunately the Easter Markets are cancelled this year, as are the church masses, but at home Czech families will still be celebrating in the traditional manner: baking Easter cakes, decorating eggs, and whipping female members of the family on Easter Monday. You can read more about the Czech Easter habits on our website. Happy Easter everyone! - Easter in the Czech Republic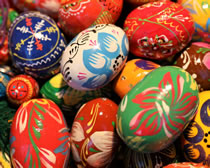 Coronavirus (COVID-19) News for Prague and Czech Republic
27 March 2020

The streets and squares of Prague may be quiet, with no tourists and few locals around, but Prague Experience is still here for you, bringing you up-to-date information on life in the Czech capital in the light of the coronavirus situation. Read about the emergency measures in place and how Czech people are coping. We wish you well, stay safe and healthy! - coronavirus news