Prague News
Your up-to-date guide to Prague news, life, culture and reopenings.

After two months of closure in early spring, most businesses have reopened in Prague. Czechs can once more enjoy a beer after work in their local pub, go shopping, and even take a leisurely cruise on the river.
Normality (of sorts) returns to Prague and the Czech Republic
25 May 2020

Today is a momentous one in the story of 2020. The next stage in the 'Great Reopening' is underway: pubs and restaurants can open fully, with seating now permitted both inside and outside; hotels, swimming pools and zoos are welcoming visitors once more; river cruises are sailing again; and many events can resume.

But the next big question.... when will the borders fully reopen?...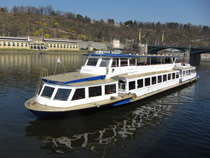 Old Town Hall Tower Reopens
18 May 2020

The Old Town Hall Tower is open once more after a 2 month closure. It is one of the most well known landmarks in Prague. Inside is a staircase and an elevator, which visitors can climb or ride to the top to take in beautiful views over the Old Town.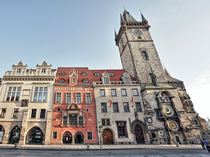 Beer Gardens and Summer Terraces Reopen
11 May 2020

Prague pubs and restaurants are back! From today they are allowed to open their outdoor premises. After a long time, people can once more enjoy a draught beer or a bite to eat in a beer garden or on a restaurant's summer terrace.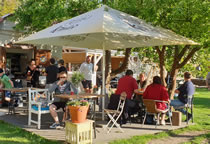 Wenceslas Square Renovation
01 May 2020

The city of Prague never sleeps! In Wenceslas Square, long-planned renovations are under way: by 2025 the famous square will have a new look, as shown on the photo below, with more space for pedestrians and more green space. There will be new paving, an extra line of lime trees will be planted, and tram tracks will be laid along the sides of the square. The centre of the square will be free for pedestrians and cyclists.
Wenceslas Square is 750 meters long and 60 meters wide, and was originally founded as the Prague horse market by King Charles IV in the fourteenth century.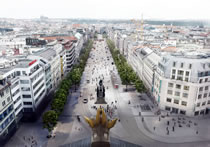 Czech Pubs
28 April 2020

The Czech people are saving their pubs! These are sad times for pubs and restaurants, and many are struggling financially. Places that used to be full of life are now deserted. So Czech pub goers are supporting a project called 'Save your pub', which involves them buying vouchers for beer and food in their local, for use when the corona-crisis is over. In the last month alone vouchers to the value of 7 million Czech Crowns have been bought. The initiative was founded by the Czech Association of Breweries, and 2400 pubs have signed up so far, located all over the country.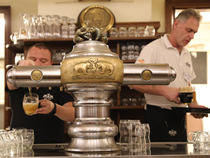 Czech Baking
25 April 2020

Forced to stay at home, Czech people have turned to the traditions of their grandmothers in order to feed the family, limit the need for shopping and to kill a bit of lockdown time. Everyone has started to bake! Bread, rolls, sweet buns, even burger buns - everything is home made these days, while flour and yeast are slowly becoming goods in short supply!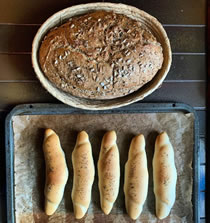 Sewing in Prague
18 April 2020

Sewing is the new national hobby in the Czech Republic. A shortage of face masks has led thousands of people to volunteer to sew face masks at home, to help combat the spread of coronavirus. Anyone who owns a sewing machine is helping out, sewing masks not just for their families and friends, but also joining forces with others to produce a huge number of masks for hospitals, the emergency services and retirement homes.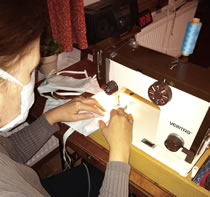 Charles Bridge
12 April 2020

This is an unusual sight: Charles Bridge, normally crowded with people, empty at midday! In the midst of the coronavirus lockdown, there is virtually no-one. It is so quiet - come back tourists, all is forgiven!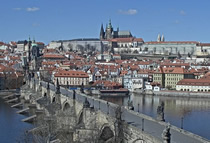 Easter in the Czech Republic
10 April 2020

Unfortunately the Easter Markets are cancelled this year, as are the church masses, but at home Czech families will still be celebrating in the traditional manner: baking Easter cakes, decorating eggs, and whipping female members of the family on Easter Monday. You can read more about the Czech Easter habits on our website. Happy Easter everyone! Easter in the Czech Republic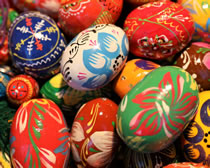 Coronavirus (COVID-19) News for Prague and Czech Republic
27 March 2020

The streets and squares of Prague may be quiet, with no tourists and few locals around, but Prague Experience is still here for you, bringing you up-to-date information on life in the Czech capital in the light of the coronavirus situation. Read about the emergency measures in place and how the Czech people are coping. We wish you well, stay safe and healthy! coronavirus news