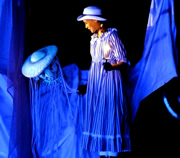 Black Light Theatre in Prague
Black light theatre is a world of illusory creations and hidden secrets. The story is related visually through a highly charged mix of theatrical elements.

All shows are different, but each will include many of the following: dynamic dance routines, colourfully dressed mime artists, ballet dancers, singers, puppets, animated film, state-of-the-art visual effects and dramatic sounds. There is often a strong emotional edge to performances, with comedic touches.

Shows are highly visual, so are suitable for adults and children of all ages and nationalities.